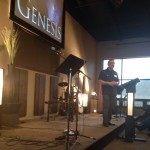 We believe that this will take place through a 3-fold process
Following Christ – Accepting Jesus as your personal Lord and Savior – which will consist of confessing your need for Jesus and asking Him to forgive you of your sin, and then laying down your will, to follow His.
Connecting to Christ – This is growing and maturing in His Word, so that you can then take God's Word and apply it into your life, living differently than you used to live, only for yourself.
Sharing Christ- As you mature in God's Word, you allow God's Word to work through your words and your deeds so that you begin to make an impact on the world around you for Christ' Name.
Follow

Whoever desires to come after Me, let him deny himself, and take up his cross, and follow Me.
Mark 8:34

Connect

And they continued steadfastly in the apostles' doctrine and fellowship, in the breaking of bread, and in prayers.
Acts 2:42

Share

Go therefore and make disciples of all the nations, baptizing them in the name of the Father and of the Son and of the Holy Spirit, teaching them to observe all things that I have commanded you.
Matthew 28:19-20