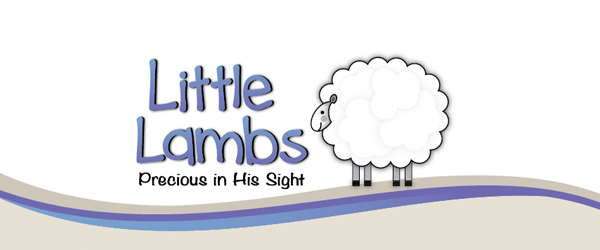 Our Nursery is staffed with professional, caring adults who provide a safe and secure environment conducive to the child's physical, social and spiritual growth. When you are confident in leaving your baby in the care of our staff, then you are able to worship with a sense of security. We have taken great care to prepare the Little Lambs class room to be the best environment for your baby/toddler with age appropriate toys and an opportunity to interact with others. As we hold and play with these precious little ones be assured that we are praying for them that they would receive all that God has for them in life. We believe as we do this that every child we pray for will be touched by God.
Tips to help your little one grow and feel comfortable in the Little Lambs class room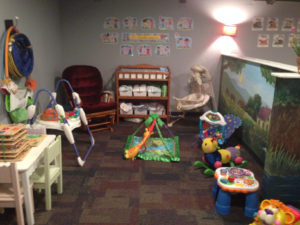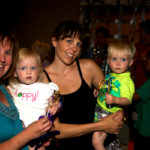 The more consistently your child is involved in the class, the more comfortable he/she will feel.
It is common for babies/toddlers to cry immediately after parents leave, but they usually calm down. We will not let your baby cry longer than 5-10 minutes without informing you. If we need you for any reason the id number on your check in tag will be posted on the screen.
We would also ask you to inform the teacher of any special instructions, allergies, feeding schedules, nap times, whether or not you'd like us to change your child's diaper or not, etc. on the clipboard as you check your child in.
Safety
Volunteers wash toys after each service and wash all plush/soft toys.They are trained to wash their hands after diaper changing and after touching any body fluids on a child. Care is taken to look for developmental needs of babies so they know their ability to sit up or not, how competent they are at standing and pulling up, etc.
Our desire for the Little Lambs nursery is to provide a safe environment for your little one so you as a parent can confidently sit in the main service and learn of God's Word. If for any reason your child needs your care you will be contacted in the service by either a number on the powerpoint screen or a Little Lambs Servant will come and get you in the service.
If you would like to serve in this ministry please contact Kimber Collom.
Little Lambs — 2 years old – Preschool
The Little Lambs room is split into two sections separated with a 4 ft. wall so that those that can walk and play don't accidentally hurt one of the Little Lambs that hasn't yet started to walk.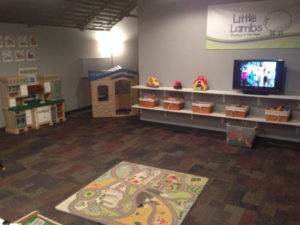 The goal of the curriculum for these little ones is to present great truths about God in very simple words. We will start the process of introducing your child to the love of Jesus Christ through key Bible stories, coloring pages, and children's worship videos.
With these Little Lambs we will begin to help them experience community as they make friendships with other little ones and as they also get to know the leaders. We will teach them what prayer is, and during the class we will interact with them through creative arts, and songs that teach them concepts of who God is. We will also provide parents take home handouts each week that talk to them about what was done in the class so the child's learning can continue at home as well. If you would like to serve in this ministry please contact Kimber Collom.