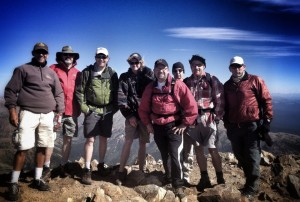 Men's Ministry is designed in purpose to help men connect to God and to build strong friendships with other men. For whatever reason it is hard for men to connect and be real to other men, be it pride or the fear of being vulnerable to others we know that the enemy would love for men to continue alone down their path, but this isn't what God would want. God wants men to lock arms and fight the battle together.
The Bible tells us in James 5:16, "Therefore confess your sins to each other and pray for each other so that you may be healed. The prayer of a righteous man is powerful and effective." Knowing that there are other men that struggle with the same things you struggle with can be very freeing.
In knowing that men struggle to share the battles that they face we try to provide activities and events outside the 4 walls of the church. This enables the building of relationships through experiences – hiking, camping, fishing, shooting guns, snowmobiling, grilling up some fresh meat to the Lord, or rafting down the Colorado River – we are looking for connections.
Meeting Time
Currently the men meet every Friday at
Yeti's Coffee Grind
330 Broadway – Eagle, Colorado. 6:30am-7:15am
Yeti's Grind